A book by Gari Stein
Over 300 Resources and Activities, Photographs,
145 Pages and FREE Travel CD with 53 Songs for Tots to 8s.

Read The Press Release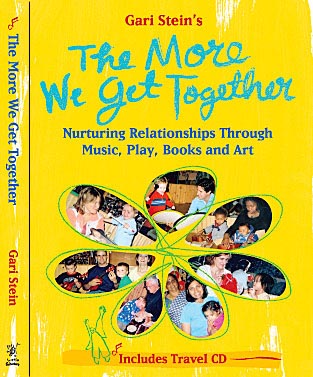 The More We Get Together book
is no longer available for purchase.

---
---
Music, play, literature, dance, drama and art affect one's physical, emotional, social and spiritual growth; and all are intertwined in the young child's world. This unique resource and activity guide for families and educators of tots to eights brings together all these facets of the child's life and more including parenting tools, classroom management and groundbreaking research.
The More We Get Together takes the reader on a journey into the world of young children, inviting the grown-ups who love them to reconnect with memories of sitting in the kitchen or on the front porch singing songs, reading books, drawing pictures, sharing hugs, laughs and special moments.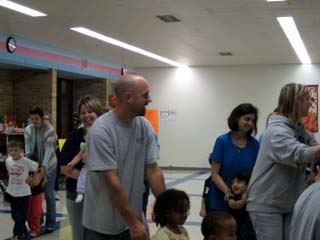 In our hurry-up, dot com world, such experiences can provide a sense of community; it's not just about the music, the books and the crayons, but the relationships that are nurtured when we sing, read and play together. It really works! No experience or expertise required. It's all here: a resource that every parent, caregiver and teacher will want to use every day.


---
Chapters:
Part 1. The Research: Much More Than Just the Facts
The Power of Music
Family Sharing: A Trip down Memory Lane
What's It All About? (Research)
Playmate, Come Out and Play with Me
Music, Language and Literacy
Listening and Hearing
Rock-a-Bye Baby
Part 2. The Activities: Too Much Fun (and Educational) for Everyone
Let's Start at the Very Beginning
Let's Get Started
What to Do with Those Babies?
A Potpourri of Activities: A Little Bit of This... A Little Bit of That
Swinging on a Star! Activities to Introduce Creative Movement
Seasonal Celebrations
Play Parties and Singing Games
So Many Books... So Little Time
For Art's Sake
Lullaby and Good Night
Love Is All Around: Authentic Children's Music by Authentic Children's Musicians
More Resources: Finale
---
Online Reviews:
"The More We Get Together definitely inspires you to get more involved with your children and provides you with the tools to do it." Product review by Heidi Miller-Ford, April 2011 -The Old SchoolhouseŽ Magazine
Expert Advice: Local Music Educator Gari Stein Puts Her Philosophy into a Book -annarbor.com
Online Interview with Gari Stein -Write On! Online
Comments from Fans:





Highly user friendly, April 5, 2009
The education of a child is as much a matter of building motivating relationships as it is academic content. "The More We Get Together: Nurturing Relationships Through Music, Play, Books And Art" by Gari Stein is focused on helping parents and teachers to build those kinds of relationships with their children that will foster both a love of learning as well as the acquisition of specific and education related skill sets. Divided into two major sections, "The More We Get Together" covers the research underlying the conceptual value of human interaction as a vital element in the learning process and then goes on to survey education activities that incorporate music and playing, books and art appropriate to both a home and a classroom setting. Enhanced with an accompany 'Travel CD' and an extensive resource listing of books and websites, "The More We Get Together" is a highly 'user friendly' and enthusiastically recommended addition to personal, professional, school and community library Parenting and Curriculum Supplement Educational Resources reference collections. -Midwest Book Review





Superb gift for parents and teachers, March 19, 2009
Ms. Stein's book offers an inspiring and convincing presentation on the importance of art, music, and dance for young children's development. She shares her wisdom by giving clear instructions for artistic activities as well as many book, music, and website references. Her writing is accessible and informative. The accompanying CD stays in my car for its lasting entertainment value on long trips. Ms. Stein's voice is very soothing, and the CD is just right for young listeners. Between the calming music selections, Ms. Stein encourages audience participation: "Let's make some soup! What shall we put in our soup?" is one of my son's favorites. Suggested hand motions also help to keep listeners engaged. I highly recommend this book and CD. -Amazon.com reader review
"I observed Ms. Stein giving her presentation and was struck by the accessibility of the material and her enthusiasm for the measurable difference these activities can make in young children's lives. The body of studies and literature regarding early childhood development is known to Ms. Stein.
She appreciates small children. She understands the seemingly minute, yet enriching movements and sounds that elicit response and foster creativity in young people. Her practical ideas for music and movement activities are based on sound principles and proven techniques". -Director of Statewide Services, State of Michigan, Department of History, Arts and Libraries
"I am extremely impressed, with your incredible collection of Sing With Me kits-not just for the variety and richness of the music, but for their thoughtful and meticulous integration of music and education. You have managed to create a program that seamlessly introduces music theory and movement into an activity-based 30 minute stretch of pure fun for young children. I was privileged to be able to try out some of your CDs on my own toddler, and I can tell you from my own experience that he absolutely loved it". -Director of Children's Publishing, National Publisher
"The opportunity for children to hear live classical music at such a young age is rare. I truly loved the moment when you had the children put on their tiptoe shoes and dance around the room. I love seeing the children dance with leaves, flowers and snowflakes, wave streamers, sit enthralled as you read a book, and then gently rock a baby to sleep. Your innovative ideas for movement brought much joy to so many children at these concerts. These concerts leave powerful lasting memories for children. Years later, they remember hearing classical music for the first time." -Educational Coordinator. Ann Arbor Symphony Orchestra
"Moms, dads, grandparents, teachers and other adults learned creative ways to incorporate Music into everyday activities using common items found in most homes. Your presentation showcased for us the many way music can move us, uplift and calm us." -Assistant Director for Early Childhood Educations -St. Clair Educational Agency