The More We Get Together

Mommy & Me / Sing With Me Music & Movement Classes
Wednesday Sing With Me class now on Zoom!
Sing With Me: The Program
Sing With Me: Song Titles
Sing With Me: Reviews
Sing With Me: Examples
Travel Totes
Ordering
Message from Gari Stein
Calendar Events
Research Tells Us
Workshop Handouts
Professional Development
Interactive Community Concerts
Children and Music
Michigan Reads! Guide
Links
Home


Play, Laughter, Song & Dance News Interview

Music & Motion KinderConcerts Ann Arbor Symphony

This is our Spring 2020 KinderConcert (1st virtual ever)


This is our Winter 2021 KinderConcert

In Tune With Babies

Now I know my ABC's . . . Is That What It's All About?

So . . . What Can Those Babies Do?

Nurturing Baby & You: More Than the Music

Music & Movement For the Very Young

Music and Parenting: Somewhat Like A Symphony

What? Me, Teach Dance?
---
Why sing and dance with young children?
All children are born with the potential to be musical and learn through movement and absorbing. Research findings show that the early years offer an optimal window for nurturing that potential, and support the importance of music and movement in the Early Childhood Curriculum. Musical aptitude may be a separate intelligence and, for many children, possible their only form of self-expression. Musical experiences can help enhance learning, listening & literacy while providing tools to promote social and emotional success. Music should also be recognized as an art form and appreciated for its pure enjoyment and enriching qualities.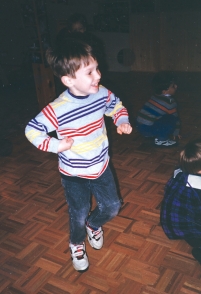 In my classes, the children are introduced to many styles of music from Classical to Cajun to Broadway. Children benefit from a wide variety of music, and will be gently encouraged to experiment, explore, listen to, connect, experience and create music. I also believe in using props such as puppets, visual aids, and rhythm and percussion instruments.
My philosophy comes from a holistic approach to music education, taking the whole child into account while respecting individual differences. My goal is to expose children to a rich musical environment that will provide them an opportunity to experience music and deepen their natural connection with it.
Music and movement for young children are indispensable teaching tools and should be part of every teacher and provider's training. But except in rare cases, they are not. Many professionals are afraid to be musical, afraid of their singing voices or of losing control of the group. For this reason, I cover classroom management in depth.
Why Do Music Every Day?
Making music is always a joyous experience for young children, which is reason enough to include it on a daily basis. Other benefits of providing appropriate musical activities everyday are:
Enriches all areas of child development-physical, social emotional, cognitive, aesthetic, linguistic, spiritual
Stimulates the brain and helps many facets of learning
Affects staff productivity and efficiency
Decreases stress and increases energy
Boosts staff morale and sense of well-being for all
Brings people together & creates a sense of community Fosters acts of kindness and co-operation
Music, unlike other activities, provides an instant connection with most children
Cost is minimal
Music matters and can be available to or for everyone, anywhere, anytime