There's so much more going on in the studio than music making. You don't just come to a class and then leave. Snack and chat and instrument exploration make it a very special time. Parenting concerns are supported with articles, conversation and families sharing.You will be equipped with simple activities to take home and enjoy together over and over.

Newcomers are welcomed with open arms, playgroups are formed as well as life long friendships. We are one big extended family, sharing our joy and sometimes our sorrow. Many families return year after year with new siblings.

Personal space is always respected for those who prefer not to socialize. It's unlike any music program in Washtenaw County. I hope you will come visit. Come and see what it's all about and help me celebrate 26 glorious years of Music For Little Folks.
Everyone Welcome.
Financial Assistance Available.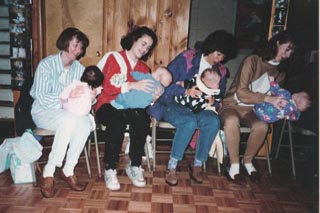 NURTURE BABY'S BRAIN DEVELOPMENT
Did you know that an infant's brain will double in size in their first year and that sensory experiences and movement impact brain development?
| | | |
| --- | --- | --- |
| | Sneak a Peek of Activities | |
| | | |
NURTURING BABY & YOU: Babies to Pre-Walkers.

A unique program that focuses on play, movement & touch, based on research of the body-brain connection. Sensory experiences and physical movement are two forces behind brain growth. Enhance healthy development & strengthen your bond with baby while having too much fun.

Join Gari in a warm, gentle, nurturing environment, with time to chat, share resources & support, learn activities for daily routines that impact the growth of your baby's total development.

Music can be your best friend. Learn finger plays, melodies, support tummy time, enjoy nursery rhymes, chants & massage. Together we will waltz, folk dance, take sheet rides, explore instruments, sing lullabies & more. Share hugs & laughter & learn techniques to turn cranky to calm.
Nurturing Baby Now VIRTUAL at the Ann Arbor YMCA
Tuesdays, 11:15 a.m. - 11:45 p.m.
Free to members.
Only $15 for a 7 week session to Non-Members.
Register at www.annarborymca.org
Join Anytime!
Contact Gari
for more information.

| | |
| --- | --- |
| | Special Delivery |
Gari Brings the Joy of Music & Movement
To Your Baby Playgroup
For Babies to Pre-Walkers
Includes 2 Cds for Each Family
In the comfort of your home or other setting, Gari provides an informal & slow paced atmosphere. Learn songs for everyday routines, movement activities that nourish baby's brain & all developmental domains & then take the music home. Together we will sing, bounce, chant, enjoy nursery rhymes, massage, support tummy time, take sheet rides, waltz, play with instruments, rock in hammocks, sing lullabies, and more. Gari brings relevant articles to share & also provides time for parenting support and the exchange of concerns and ideas. Nurture baby and yourself while enhancing your bond. No older siblings please.

Starts anytime as schedule permits. See schedule page for Fees.
Make-A-Wish
Birthday Parties for Tots to 5s
Music, Stories, Craft Activity, Cupcakes, Cd Favors
My Studio, Your home or Venue
Music & Movement Video Snippets

Bim Bam
Take the A-Train
Twinkle Twinkle
Artists Life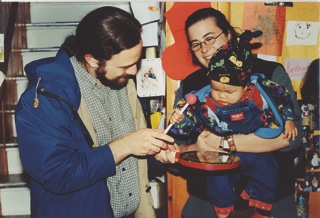 Please call 734-741-1510 #3 or email garistein0125@gmail.com to leave a comment, for more information about the program, or to reserve a space for the next available session. Please leave your name, phone, month & year of child's birth and a good time to call you back.

Remember, when all else fails, try Singing and Dancing.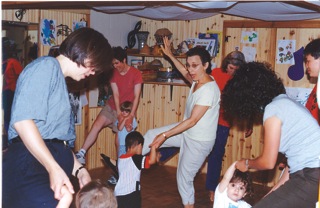 It really works!

Sing With Me Reviews

A mom recommends Music For Little Folks:
"Gari has such a wonderful connection to music and movement. She brings a real understanding of children and their development. She guides children and let's them lead and explore. Children really feel free and unpressured. In this type of environment they thrive. Wonderful."

From a Retired Early Elementary Teacher:
"Thank you Gari, for such an enriching musical experience. What a beautiful class you lead. As I've said before, what you do, making it look so effortless, has the foundation of loving, thoughtful learning; it's what all great teachers do. We're all lucky to have you!"

From a Mom Who Attended Beginning in 1998:
"You and your music class remain in the foundation of our living and parenting."

From a Nanny:
"Thank you so much for your important work with children and families. What a gift for me to be back at Gari's music class after all of these years with my children...so grateful to share this time with the little boy I nanny, you, and others..."

From a Dad...The Last Bim Bom for Us...
I have so loved your class with (daughter.) I don't do anything else in my week which is so soft, so pulling me into a soft world of very small children, of moms (and dads and nannies) and their little ones...the soft flow of the movements, the getting up and down, over and over again, the various silly/willy songs, the words of which I can still barely keep up with, even after almost three years of being in the class...

it's a morning wake-up yoga class for me....and it's been a really bonding and lovely time for (daughter) and me... it will live on with me, as she gets older, and I do.

From Sing with Me Mom & Dad / Violin Teacher Participants:
We were at family music camp and our daughter was able to participate in the "pre-pre-twinkle" class which is basically a music and movement class. It was nice and she enjoyed it, but it was nowhere near as well put together as your class. Your class is so well thought through from beginning to end.
More specifically:
The beginning hellos and warm-up part
The ending which mirrors beginning and the whisper
The movements created especially for each song
All the bah bah bahs
Listening to different types of music and tape recorder sounds
Bim bom
Musical instruments and props
All tightly organized
It is deceptively simple until one experiences other classes!

From a Dance Teacher:
Hi Gari, I purchased your program 4 years ago and have used it as a guide and it has allowed be to add my own style and creativity! For example, I teach dance and use dance movements during certain songs. Gari you've done a great job putting this program together. Your creativity has made my classes very successful!! I would love to videotape a class for you so you can see how successful you really are!

30 minutes is the right amount of time and I like how you change it monthly, by keeping the beginning, middle and ending are the same, this enables the children to be familiar with their class but always have something new to look forward to learning. I really suggest this program to anyone doing baby classes or Mommy and Me classes. If you need additional info or thoughts about Gari's program, email me at TheSpiritofDance@amigo.net. Thanks so much Gari!

From a Young Mother:
"John looked up at me and sang BA - he was singing to me - what a joy at five months to hear your child sing to you."

From a Mom...
"Gari. You are a real blessing to all who get to share your passion and gifts with you."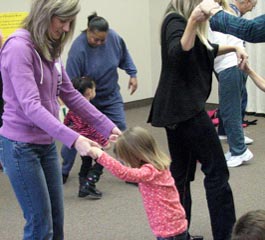 More Family Comments

"I can tell the skill, time & creativity that went into preparing these CDs-they are thorough, yet perfect time length (although we listen to them for hours!) a good balance of listening, fingerplays & movement as well as variety of music..."

"Her program is encouraging-it's better than yoga...I have consistently been impressed with Gari's professionalism, sensitivity & knowledge of child development...The integration of the silence is impressive in how the children capture the notion...I recommend her program very enthusiastically..."

"Having simple rhythms as the emphasis rather than just songs & bringing movement aspects of music rather than just voice has been outstanding...Fun, laughter, good music & family favorites..."

"One year ago we adopted a baby from Russia-I ordered your CDs & DVD and planned to teach music to our son-Instead we have played your CDs for him at naptime, bedtime, in the car or around the house when we are having a hard time with transitions-We LOVE your stuff...fun, laughter and good music...an important event of community...Gari's class reminds me that there is still peace & calm in the world..."