The More We Get Together

Mommy & Me / Sing With Me Music & Movement Classes
Wednesday Sing With Me class now on Zoom!
Sing With Me: The Program
Sing With Me: Song Titles
Sing With Me: Reviews
Sing With Me: Examples
Travel Totes
Ordering
Message from Gari Stein
Calendar Events
Research Tells Us
Workshop Handouts
Professional Development
Interactive Community Concerts
Children and Music
Michigan Reads! Guide
Links
Home


Play, Laughter, Song & Dance News Interview

Music & Motion KinderConcerts Ann Arbor Symphony

This is our Spring 2020 KinderConcert (1st virtual ever)


This is our Winter 2021 KinderConcert

In Tune With Babies

Now I know my ABC's . . . Is That What It's All About?

So . . . What Can Those Babies Do?

Nurturing Baby & You: More Than the Music

Music & Movement For the Very Young

Music and Parenting: Somewhat Like A Symphony

What? Me, Teach Dance?
---
Here are some samples of the kinds of activities I've found work really well with young children ...
MAKING SOUP
(to experience a continuous flow ... no materials needed)
--- "Let's make some soup! --- what can we put in our soup????"
--- "Let's chop-chop ... get out your choppers (side of hand on open palm)
--- CHOP CHOP CHIPPITY CHOP CUT OFF THE BOTTOM AND CUT OFF THE TOP WHAT WE HAVE LEFT, WE'LL THROW INTO THE POT CHOP CHOP CHIPPITY CHOP.
--- When children know it well we can chop fast, slow, low/high/whisper/no voice
--- "GET YOUR STIRRERS READY!!!"
--- Sing a melody while stirring with arms ... repeat twice using other body parts ... take a taste ... do while sitting first ... standing next time.
--- HOLD BABIES AND GENTLY STIR THEM.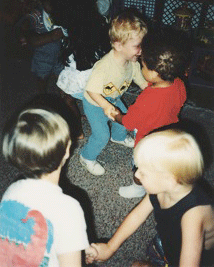 FEELING A STEADY BEAT
(Supports all areas of development)
--- Groups of children with adults hold hula hoops and bounce while singing
--- Pairs of children hold hands and sing while rocking back and forth
--- Individual children rock side to side while sitting or standing
--- With recorded music, tap bodies and incorporate bi-lateral arm patterns with or without paper plates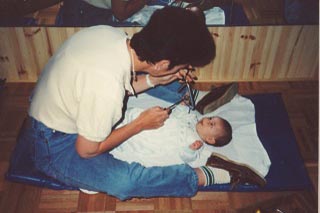 LISTENING ACTIVITIES
(A major focus of Sing With Me - Essential for learning.)
--- With slide whistle, start in crouched-down postiion. Children rise up and down to sound of whistle.
--- With slide whistles, adult makes different sounds and children echo back with their pretend whistles.
--- Record sound effects, have children listen with their listening ears and lips zipped
--- With recorded music that has distinctive patterns, move arms in a different manner for each pattern.